This post explains how to set up a website or blog in 5 easy steps.
This post contains affiliate links – which means that I may earn a commission for recommending this product – there is no cost to you. I would never recommend something that I haven't tried and loved.
It has never been easier to start your own online business or blog. You can set this up easily in just a few hours.
How To Set Up A Website Or Blog In 5 Easy Steps
Choosing A Platform – WordPress.com versus WordPress.org
Before we begin, it is important to understand the difference between WordPress.com and WordPress.org as this will determine the flexibility of what you can do on your website.
The purpose of your website will determine which platform you will use.
WordPress.org
Popular website platform
It is open source and 100% free to use once you have a domain and hosting set up
Full control of your website
You own your website and all of its data
Ability to customise your website however you please
One can make money from your website
You can set up an online store to sell products or use it as a membership site.
WordPress.com
Hosting service created by WordPress
Free for up to 3GB of space
They place ads on all free websites
You cannot use plugins on a WordPress.com site
You cannot upload custom themes
It doesn't offer any ecommerce options
Choosing a domain name
Firstly, you will need to decide on your domain name for your website – whether it be for your blog or your business.
You can either use a domain name registry like Crazy Domains or you can use a hosting provider like BlueHost who offer domain names as part of their services.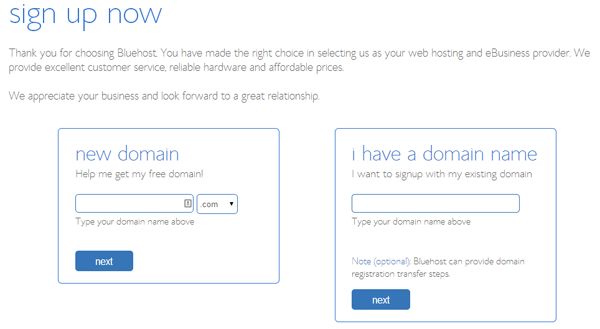 Whatever option you choose to take, once confirmed that your domain name is available, you will be taken to a page to enter your new account details and to set up payment.
Choose the package that suits your budget and the only "optional extra" that I would recommend purchasing at this stage is the domain privacy option.
This prevents your contact details being readily available to the public.
Installing WordPress
Once you have your account information and your log-in details – head over to the BlueHost website and in the control panel under "Website Builders".
Locate the "WordPress" logo and click on it.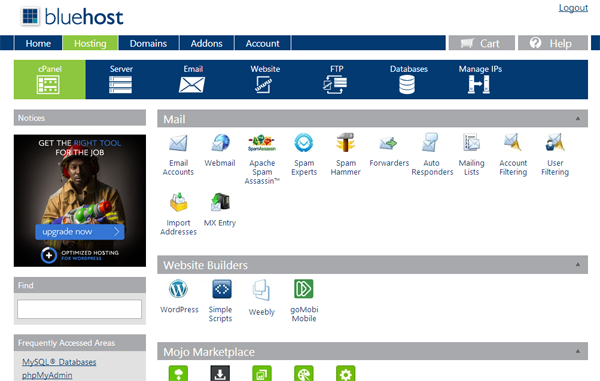 You will be prompted to chose a new or existing installation. Select "new".
This will be followed by selecting the domain name that you wish to install.
You will be prompted to review the terms and conditions and then click on the "install now" button.
Setting Up WordPress
Logging in and customising your site
Locate your WordPress login details (these will have been sent to your nominated email address).
Ensure that you keep them handy with you at all times to be able to access your site.
Your WordPress admin page looks like the snapshot below.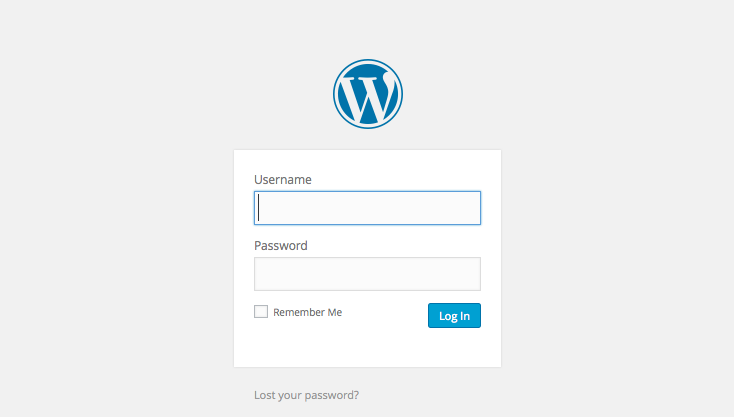 When you have logged in successfully, you will have access to your WordPress dashboard – this is the engine room of your website.
You can create new pages, write posts, modify the appearance of your website and monitor activity.
The theme will default to a standard theme and then you have the ability to customise or change the theme – depending on the look and feel you are after.
Choosing A Theme
Once you are set up and ready to roll, you can either use the default WordPress theme, search through WordPress for other free themes available, or purchase a theme.
I use Divi on my website, which is made by Elegant Themes.
Other developers worth checking out include:-
Elegant Themes
Themes Forest
Restored 316

Now that you have learnt how to set up a website or blog in a few simple steps – get cracking and start building your online business and unlocking flexibility and freedom today.
Related Posts